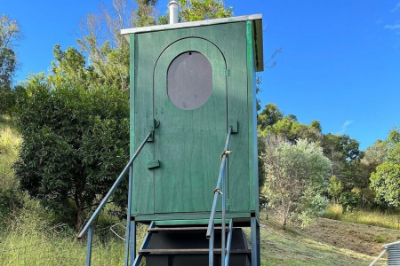 Looking to build an eco-friendly outhouse? We've got ALL the inspo!
Composting toilets are a great eco-friendly solution for outhouses - take care of your needs and preserve the planet all in one! Whether you're catering to a low-use or high-use scenario, there's a composting toilet for you.
Outhouses can be constructed in two ways - close to the ground or raised on piles, and there are composting toilet options to compliment both. However, with composting toilets, raising the building is a big advantage as it allows for composting chambers to be housed under the floor, providing higher capacity and lower maintenance.
When choosing a composting toilet for your outhouse, consider factors such as available space, usage requirements, and climate. So, let's delve into some outhouse options, including their features, benefits, and considerations.
Outhouse on the ground (concrete slab or wooden floor)
w/ Self-contained composting toilet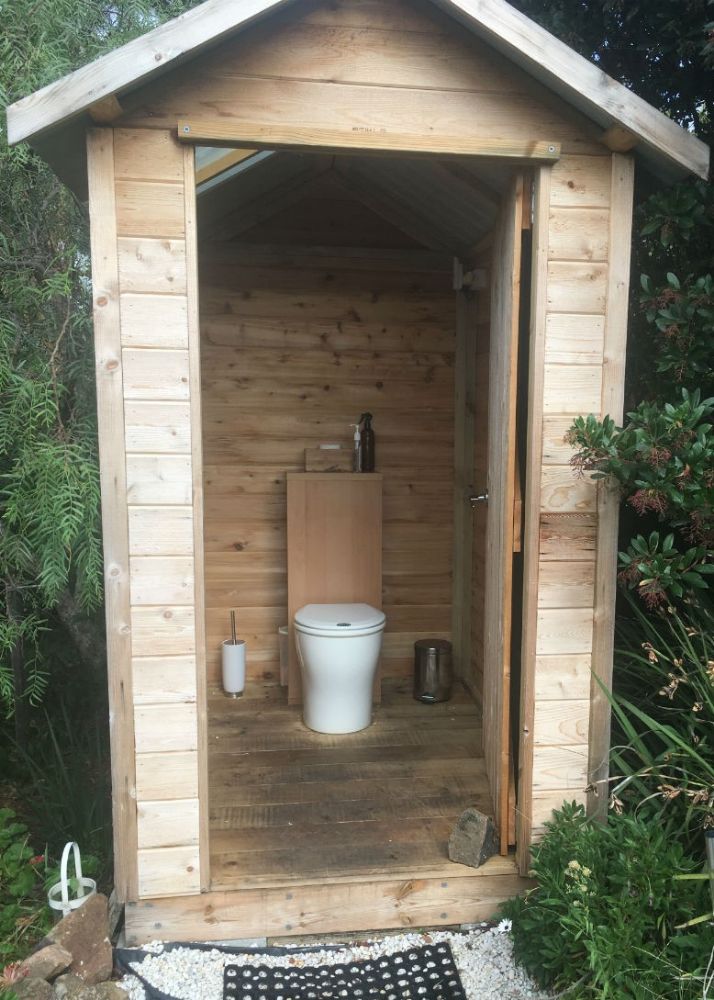 Self-contained composting toilets are a great solutions for outhouses that are built close to the ground on a concrete slab or wooden floor. Self-contained systems are installed directly on the floor of your building, requiring no sub-floor clearance, so the outhouse doesn't need to be raised.
Such toilets come in a variety of models - some of them very compact, making them great for smaller outhouses or limited spaces. The main consideration with on-floor systems is that they do require more maintenance than other composting toilet options - the compost is emptied more frequently and needs to be put into a dedicated onsite compost bin for secondary treatment and maturation before it can be buried. This solution is most suitable for low-use scenarios of 2 people full-time or 4 people part-time.
Benefits:
Space-saving solution
Perfect for smaller outhouses
Toilet installed directly on the floor
No need to raise building
Considerations:
More maintenance than other composting toilet options
Secondary Treatment System required (dedicated onsite compost bin)
Suitable for low-use scenarios
See compatible composting toilets:
Outhouse raised on piles
w/ Split-system composting toilet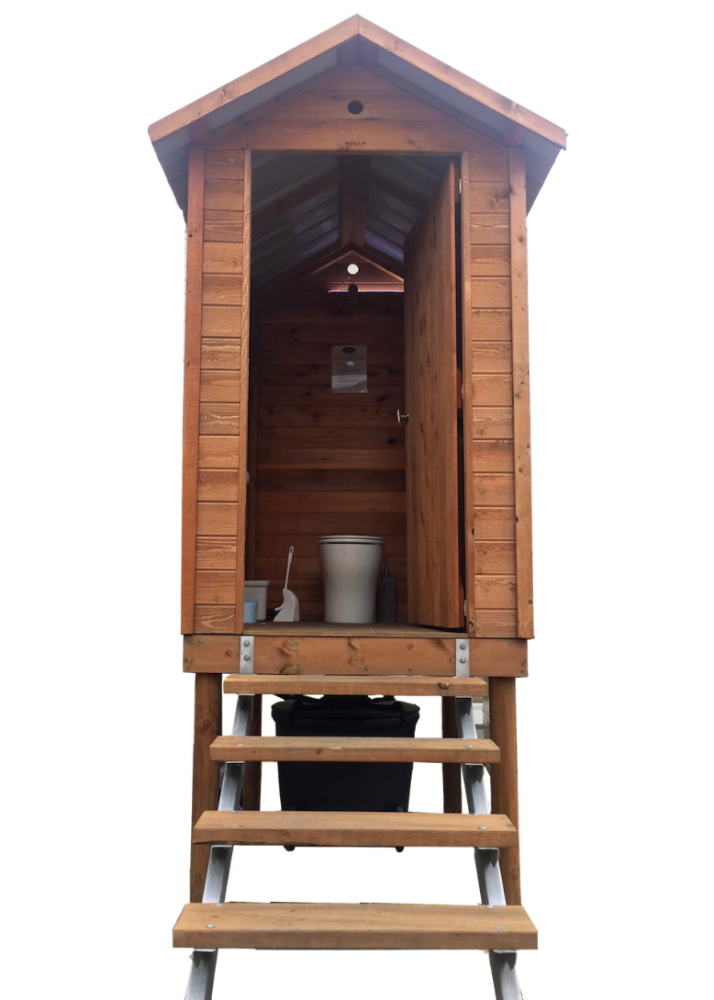 For those seeking more capacity and less maintenance, a split-system composting toilet is the way to go. This option involves constructing the outhouse on piles to elevate it from the ground, allowing for well-sized composting chambers to be housed underneath.
The composting chambers are connected with a chute to a nice, "traditional" style pedestal that sits in the toilet room - the pedestals are usually porcelain, resulting in good aesthetic, comfort and user-familiarity. This type of set up is great for outhouses and provides efficient composting within the system itself, not requiring a Secondary Treatment System.
Benefits:
Great look in the bathroom
Enhanced comfort
Low maintenance
Efficient composting
No need for Secondary Treatment System
Considerations:
Building needs to be raised to house composting chambers underneath
See compatible composting toilets:
Premium family-sized outhouse
w/ Full-spec split-system composting toilet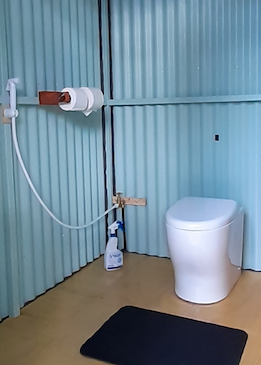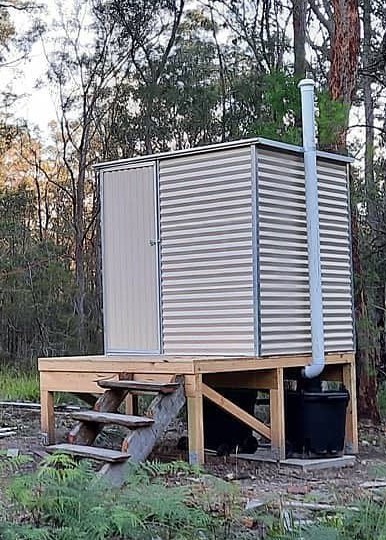 For households looking for a comprehensive outhouse with a composting toilet system capable of accommodating higher usage, the premium full-spec set up is an ideal choice. This advanced option provides comfort and convenience, decreased maintenance, and effective year-round composting (even in colder climates).
Like the split-system option above, this type of outhouse needs to be elevated off the ground to create sub-floor space in which the composting chambers can live. Again, this means raising your structure on piles. This set up not only achieves great capacity and functionality, but creates a great look in the room as split-systems come with beautiful porcelain pedestals (toilet fixtures). This means the toilet is very "normal" looking and comfortable to use! The system will process the compost efficiently within itself, and you won't need an onsite Secondary Treatment System, making things easier again!
And, since we're talking about high-use and full-spec, let's talk about all the extra features that will take your outhouse to the next level!
Let's start with the pedestal - you'll want to keep this nice and clean so that it's pleasant to use. Get it coated with nano-ceramic non-stick coating and liquids will pearl off the surface, keeping the pedestal cleaner for longer! On that note, if you want to make things extra convenient for yourself, install a hand-held bidet next to the toilet, and cleaning will be a breeze! The hand-held bidet is a "washing-wand" that will come in handy for spraying the toilet bowl when you clean it. Note, installation of the bidet will require plumbing from a water supply - a small water tank with an inline pressure pump will do just fine! This can run hand-basins, too!
Now, for the composting chambers. If you're going for a batching system, go for one that has a mixing mechanism in the chambers - this will increase its capacity by accelerating composting and leveling out the mass so that every inch of the chamber can be utilized. And, you'll want to keep your compost warm - this will ensure materials break down quickly, even in the colder months! Kit your chambers out with heating pads, add insulated cover jackets, and you'll have trouble-free composting year round. Note, the heating pads can be powered by sub-ground mains power or a dedicated solar off-grid setup with a battery bank.
Benefits:
Suitable for larger households and high-use scenarios
Beautiful bathroom look
Comfortable use
Low maintenance
Accelerated composting
Efficient year round composting
Considerations:
Building needs to be raised
Energy requirements for heating pads
Water connection for bidet and extra amenities such as vanities
See compatible composting toilets:
BONUS: Pro-tips and higher composting design parameters
If possible, position your composting chambers to be north-facing - a small building will warm in the sun and additionally provide warm air to the compost from the inside, helping with the composting process.
Composting toilets vent the room so you don't have to worry too much about ventilation for cooling or odour control.
For split-systems - in extra cold climate, keep the compost warm by building an enclosure for the composting chambers, leaving a door for access. A good way to do this is to use dual wall polycarbonate to let sunlight in so that it can heat up the chambers.
BONUS: Adding other amenities/Ablution blocks
If you're looking to go all out, why not build an ablution block? Add vanities, a showers, cabinetry and mirrors - the whole shebang! As a baseline footprint, we recommend using marine rated sized sheets of ply at 1.5m wide by 3m long, as this format makes it comfortable for additional features and the material can handle moisture. This format would look a little bit like an en-suite - the toilet on one side, shower on the other, and a vanity in the centre with a centre door. Install a water tank for running water, and you're away!
Looking for a bigger setup for a commercial application? Stay tuned for our next blog!

Need help choosing a system? Call WCTNZ® on 0800 022 027 for free advice on system specification and setup. Advanced design consultancy services are also available.
WCTNZ® | Waterless Composting Toilets NZ Limited | Copyright 2023 ©