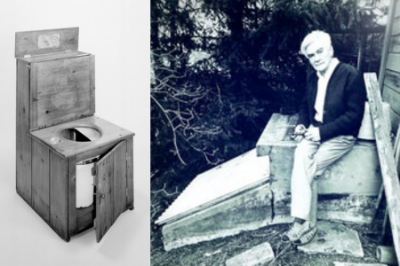 Composting toilets have been around in some shape or form since the dawn of time.
Long before sewerage and plumbing came along, there were outhouses and pit toilets, which eventually developed into basic composting toilets. The earliest models featured two chambers - one for use and the other for decomposition.
In 1860, after witnessing the cholera epidemics of 1840 and 1854, Englishman Henry Moule developed the "dry earth system" as a means of improving public sanitation. This is now seen as an early take on a composting toilet. The dry earth system featured a wooden seat with a bucket underneath and a dirt container to "flush" dirt over human excreta after use. Once full, the contents of the bucket would be buried in the garden.
79 years later, in 1939, Sweden, Rikard Lindstrom developed the first composting toilet in our modern understanding. He sought to make a toilet which would operate in harmony with nature, preserve water, and prevent waste from polluting water sources - allowing his family to swim in the local bay without worrying about sewerage. Lindstrom built an inclined continuous composting toilet on his property, which would become known as the Clivus Multrum ("inclined compost room" in Swedish). His invention sparked interest in the local community and was eventually patented in 1962. In 1973, Rockefeller licensed the design from Lindstrom and founded Clivus Multrum Inc. in Massachusetts - the first composting toilets company.
Fast forward 50 years, and composting toilets have come a long way. There are now numerous manufacturers on the market, offering both commercial and residential grade systems. The technology is constantly developing, making composting easier and more effective - composting toilets today are odourfree, low maintenance, and yield a clean, pathogen-free fertilizer.
In a short period of time, composting toilets have become globally accepted and commercialized - proving that some ideas are truly good ideas.

WCTNZ® | Waterless Composting Toilets NZ Limited | Copyright 2023 ©