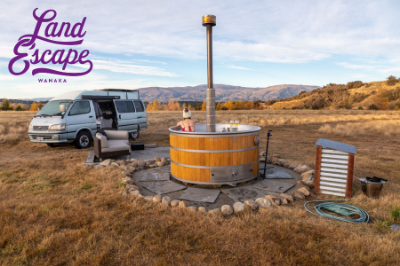 Tucked away amid the breathtaking landscapes of New Zealand's South Island lies LandEscape Wanaka, a sanctuary that seamlessly blends nature's splendor with a firm commitment to sustainability. Owned and operated by Rik and Juliet Deaton, this eco-conscious retreat is not just a place to stay; it's a testament to the beauty of nature and the urgency of preserving it.
"One of our goals was to save a magnificent piece of New Zealand scenic estate from subdivision and urbanization. We've turned a closed farm that nobody could get on to into a community and visitor-accessible green space that everybody can enjoy," Rik explains.
The setting of LandEscape Wanaka is nothing short of spectacular. Enveloped by towering mountains, crystalline lakes, and night skies adorned with a galaxy of stars, it provides guests with a chance to immerse themselves in the untouched wilderness of the South Island.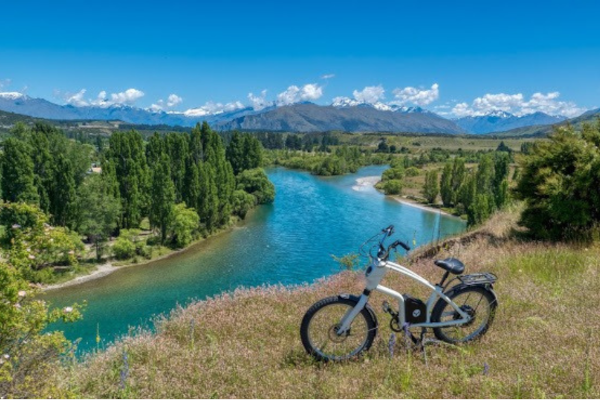 LandEscape Wanaka's mission unfolds through a range of offerings, including their unique hot tub operation, motorhome parking spots and vast e-bike trails. Guests can soak in the serenity of private hot tubs while gazing at the magnificent landscapes that surround them. Motorhome travelers find respite in dedicated parking spots, ensuring a comfortable stay amid nature's splendor. E-bike trails invite exploration of the property's stunning terrain, further deepening the connection between visitors and the environment.
"LandEscape allows people to come on and sit in the hot tub and be surrounded by mountain views and sunsets and stars. And people are just enthralled by it - our reviews are Rhapsodic," Rik says.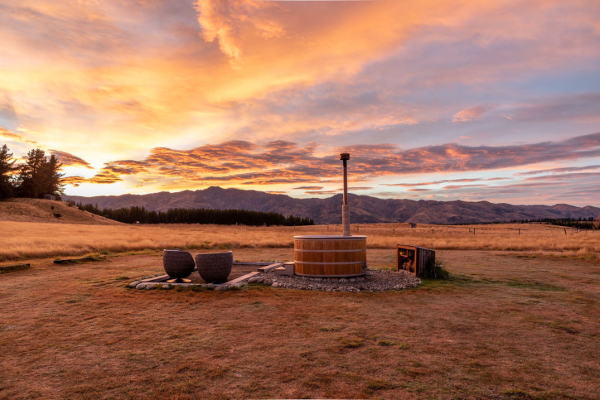 The story behind LandEscape Wanaka is one of resilience and a deep-rooted commitment to environmental responsibility. Rik and Juliet's journey towards sustainability was triggered by a challenging encounter with a steep rise in property taxes in Australia. This ordeal, coupled with their desire to lessen their environmental impact, set them on a path towards embracing renewable energy and building-efficiency.
With a long-standing interest in renewable energy, the couple envision LandEscape's future as a southern hemisphere counterpart to the Centre of Alternative Technology in Wales. It would serve as an educational hub where people could delve into the tangible aspects of environmentalism and renewable energy, bypassing the superficial fluff often associated with the topic.
"I don't see the problems we face as environmental problems, I see them as existential civilizational threats. We live on a finite planet, and the hunger for energy of 8 billion people is virtually infinite. At some point we have to transition to a basic source of energy, and that's the sun," Rik says.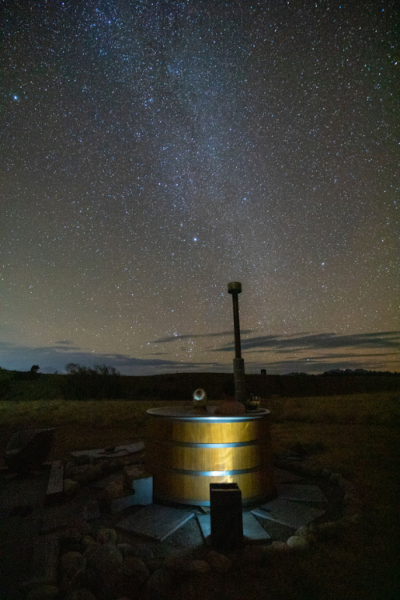 Key to LandEscape Wanaka's sustainable practices is the use of Bambooloo composting toilets, which they've installed in custom-made cubicles. These eco-friendly toilets offer a simple yet highly effective solution for managing human waste while minimizing water usage and environmental impact. Currently, LandEscape Wanaka boasts 14 Bambooloo composting toilets, with four in active use and plans to expand this number.
The choice of Bambooloo composting toilets was rooted in their ease of use, simplicity, and a desire to maintain a consistent and centralized composting process. Unlike traditional flushing toilets that rely on copious amounts of water, these composting toilets use a cover material, usually sawdust, to aid in the decomposition of waste.
"The Bambooloo is great. It's just been a godsend. If we'd had to do this some other way, we just couldn't have. Logistics and infrastructure are a big part of our challenge - how to get power, water and wastewater dealt with, so the Bambooloos are a great way to eliminate the problem of how to deal with human waste," Rik explains.
Logistics weren't the only driver, though. Environmentalism played a role, too. With a high-volume, high-quality mountain spring onsite, the Deatons were terrified of potentially putting partially treated wastewater into the water table and polluting the spring. This is a risk factor that exists around conventional wastewater systems in peak high use and seasonal sites where they can often be overloaded. Aside from that, the Deatons see flushing toilets as a wasteful system, and believe that keeping human waste out of the wastewater system just makes sense. "To turn human waste, on a farm where we have to be self-sufficient, into fully sanitized soil conditioner, that's our ultimate goal," Rik explains.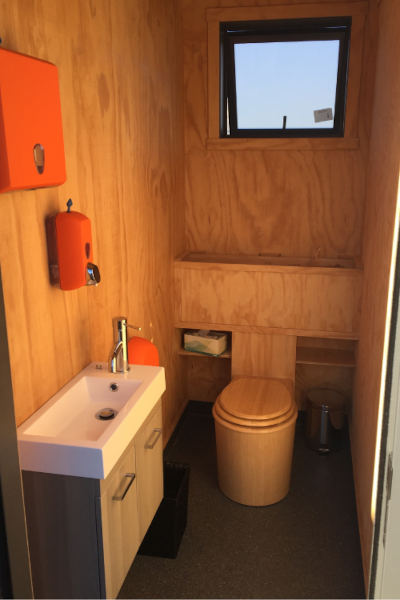 Managing and maintaining the Bambooloos is a straightforward task, with Rik personally taking charge of upkeep. "It takes me about 5-6 minutes", Rik remarks. Buckets are changed for every set of guests, ensuring a clean and delightful experience. Guests have not only embraced the system but have also showered it with compliments.
"We get compliments all the time from guests about how pleasant the toilets are. I think a lot of people are expecting the yucky old long drop and the smell and the stench of that. Instead, they're confronted by a really pleasant experience.
Our Bambooloos have been in use for four or five years and they still look like they're brand new. The thing is almost impervious - a very, very well-made product," Rik says.
As LandEscape Wanaka looks ahead, the journey towards sustainability continues, with plans to explore the addition of Sun-Mar composting toilets as the farm expands its facilities to house more guests. The Deatons have a big vision: 40 accommodation units, 16 caravan sites, a hot tub complex, a major bar and restaurant, and coffee shops are all on the cards. In this vision, Sun-Mar will be employed to handle high-use scenarios, while the Bambooloos will remain in the more secluded parts of the property.
LandEscape Wanaka stands as a powerful illustration of the harmonious fusion of luxury and sustainability. It is a place where visitors can revel in the beauty of New Zealand's unspoiled natural wonders while leaving behind the faintest of environmental footprints. In a world facing mounting environmental challenges, LandEscape Wanaka serves as an inspirational model of what can be accomplished when nature and comfort are given equal priority.
Need help choosing a system? Call WCTNZ® on 0800 022 027 for free advice on system specification and setup. Advanced design consultancy services are also available.
WCTNZ® | Waterless Composting Toilets NZ Limited | Copyright 2023 ©